2021 Chrysler Pacifica Priced, Model Costs Nearly $55K
The updated minivan starts at $36,540, but the newly available AWD system and opulent Pinnacle trim level push it into luxury territory...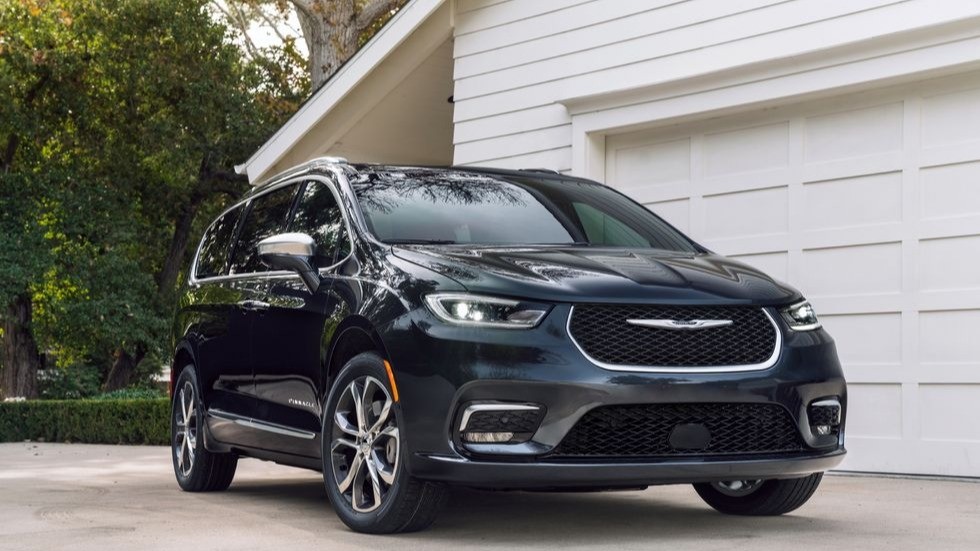 Chrysler has increased the base price of the 2021 Pacifica minivan by $1000, to $36,540, while at the top end, the new and ultra-luxurious Pinnacle AWD starts at $54,885.
All models can be had with all-wheel drive.
In more budget-friendly territory is the more lightly equipped Chrysler Voyager, priced at $28,730 to start.
Chrysler's enduringly popular Pacifica minivan will be priced starting $1000 higher than in 2020, with the base Touring model starting at $36,540.The automaker has added numerous standard safety features for 2021, plus its new Uconnect 5 infotainment system with a 10.1-inch touchscreen, standard on every Pacifica. Most notably, Chrysler has added a top-end "living room on wheels" it calls the Pacifica Pinnacle, with a special nappa leather, suede, and wood-trimmed interior. It's priced starting at $54,885.The entry-level hybrid model starts at $41,490, and there's a hybrid version at all four trim levels, with the Pinnacle hybrid priced starting at $52,340.
All-wheel drive is now available on the lower Touring and Touring L models at a $2995 premium; it's standard on the upper levels, Limited and the new Pinnacle (pictured above). In 2020, only the now discontinued Launch edition had an AWD option.
The Pinnacle adds a Safety Sphere package that includes a 360-degree camera, parallel and perpendicular park assist, and front park assist, plus a FamCam interior camera (optional on other models) that lets people in the front seats keep an eye on kids in rear-facing child seats in the second row and even zoom in for a closer look at passengers. The Pinnacle model also gets a standard 19-speaker Harman/Kardon auto system (it's 20 speakers on the hybrid).
Meanwhile, for those who don't want or need that much luxury in a family vehicle, there's still Chrysler's "budget friendly" Voyager, which starts at $28,730 and retains the former Pacifica's look and feel. Both Voyager and Pacifica continue with the 287-hp 3.6-liter V-6 and nine-speed automatic transmission. The hybrid makes 260 hp with the 3.6-liter V-6 and two electric motors plus a 16.0-kWh lithium-ion battery.
Minivan shoppers will start finding the 2021 models in dealerships later this year.
---